During the Second World War (1940-1945) almost 600,000 three-axle 2½ ton army trucks were built by the Yellow Truck and Coach Manufacturing Company (Pontiac, Michigan, USA), a branch of the General Motors Corporation (GMC). More than 500,000 of them belonged to the CCKW type with its typical descending hood, broad fenders, and square brush guard with integrated rounded head lamp protectors. The CCKW was inspired by the more streamlined ACKWX which in turn was based on pre-war civilian GMC's. As for the ACKWX, the type code has the following background: model year 1939 (A), engine in front of cab (C), optional front axle drive (K), drive of two rear axles (W) and a wheel base other than that of civilian types (X). CCKW's (yep, model year 1941) initially had the suffix X but in the course of 1941 this was omitted. From that time the two available wheel bases of the CCKW, i.e. long (4.17 m) and short (3.68 m), were indicated by the respective suffixes 353 and 352.

Imagine: 541,000 GMC CCKW trucks in five years = 300 per day ! (courtesy of Joop van Middendorp)
Next to the CCKW(X) several other GMC's were produced and appreciated in those days: the 'cab over engine' (COE) AFKWX, the CCW (yep ,no front axle drive) and the DUKW. The latter is a boat-shaped amphibian version (code U) of the CCKW which was built from 1942 (code D). Its nick name was 'duck'.
Table 1. How to decode GMC's? (CCKW in bold as an example)
| | | | | |
| --- | --- | --- | --- | --- |
| Year of design | Cab | Front wheel drive | Two driven rear axles | Elongated wheel base |
| A=1939 | C=standard | K if present | W | X* |
| B=1940 | F=cab over engine | | | |
| C=1941 | U=amphibian | | | |
| D=1942 | | | | |
* suffix omitted when this wheel base became standard
During the Second World War CCKW's built up an outstanding reputation. They played a legendary role in, for instance, the Red Ball Express in 1944. This was a 'conveyer belt' between French harbours and the
Allied front moving eastwards (see map (source: Colley, 2000)). A detailed description of the men behind this operation can be found under: www.514th.co.uk. To check out what it looked like, I have included two video clips: start of clip #1 or start of clip #2 (the latter is selected from a Discovery Channel documentary).
CCKW's were not only often called 'Jimmy' or 'Deuce and a half', but also 'workhorse of the army' as a tribute to their reliability and strength. After the war efforts they maintained their notorious reputation. Until the 1970's CCKW's were not only used by many army's but also cherished by construction companies, breakdown & towing services, fire brigades, showmen & fair companies, and circusses. They were bought from redundant army supplies. Consequently, GMC's became 'Classic Heroes of the Roads' and for my generation not primarily just army trucks. Let me first show you a few advertisements from that time. In these ads the manufacturer reminds us of the role of CCKW's in warfare.
`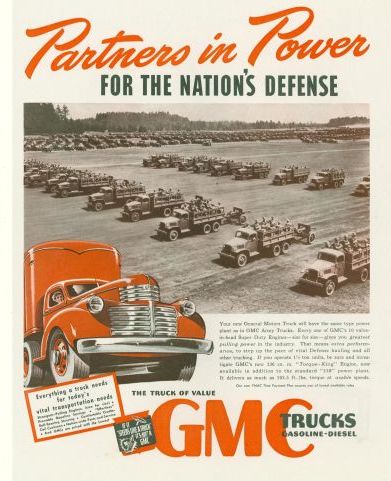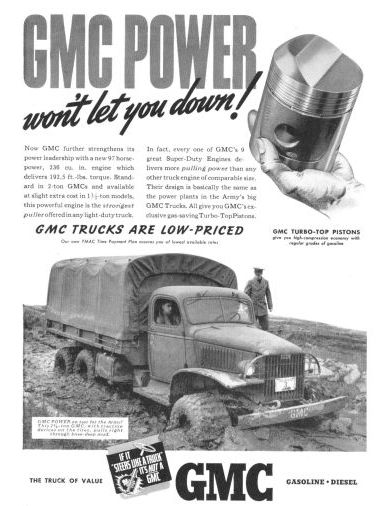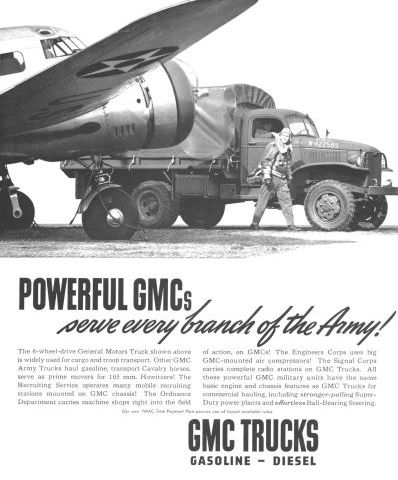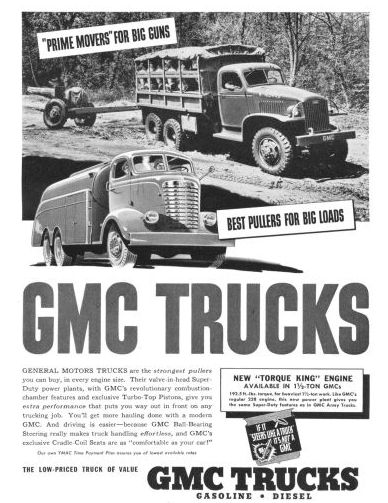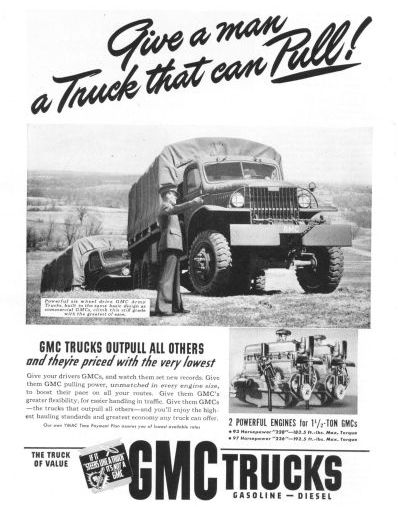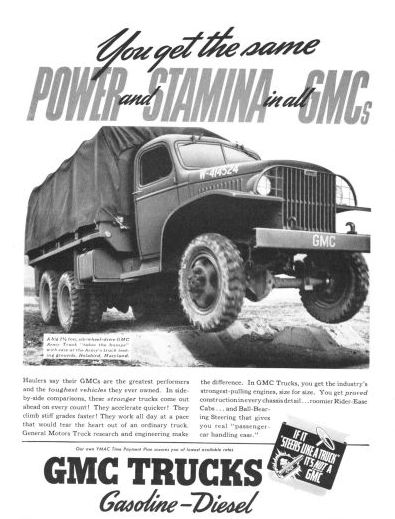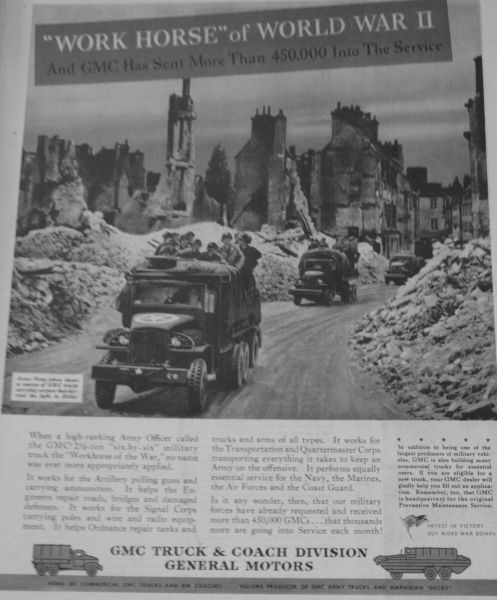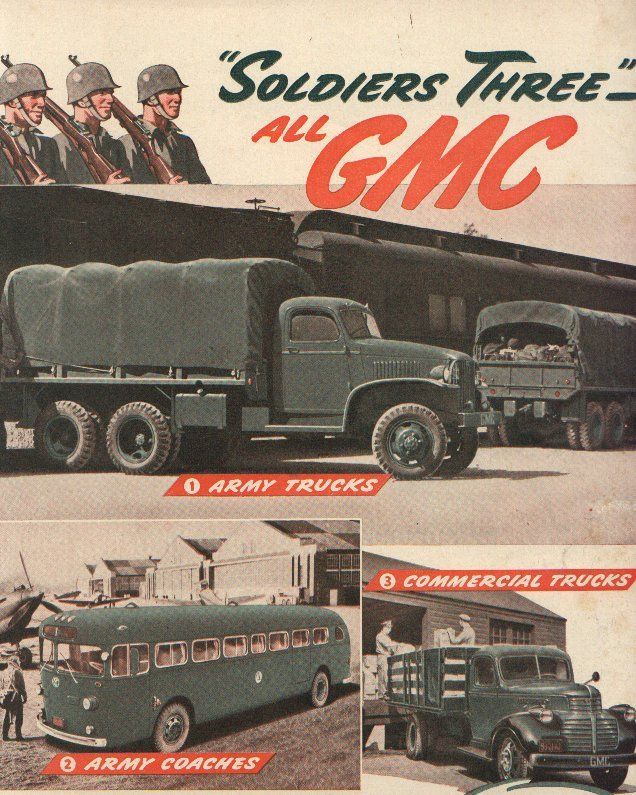 For a mix of considerations (sincere desire to rebuild European economies, transport costs of repatriation, reluctance of manufacturers
fearing that the American home market could be spoiled by returning trucks.....) GMC's were left in enormous numbers in the former
European Theatre of Operations, as illustrated with the following picture:

(source: Life Archives)

Redundant army supplies in the yard of Van Dam in Herkenbosch (courtesy of J. van Middendorp)
From such yards, trucks were sold to firms eager to resume business. The nex two advertisments try to convice Dutch construction companies that
CCKW's deserve a second chance. The only adjustments made were the installation of a new tipper body (e.g., brand Netam, see picture) and
replacement of the original open cab by a so-called Dutch cabine. Reference made to the 'Canadian Stocks' in these advertisements seems
incorrect as Canadian liberators will have used CMP trucks (Chevrolets and Fords) rather than GMC's.
Next to the Netam firm, Bavo, Mimiasie and Nooteboom were well-known Dutch suppliers of GMC-based tippers
too, as shown by these advertisements from 1953-1954 (courtesy of Peter Albers)
.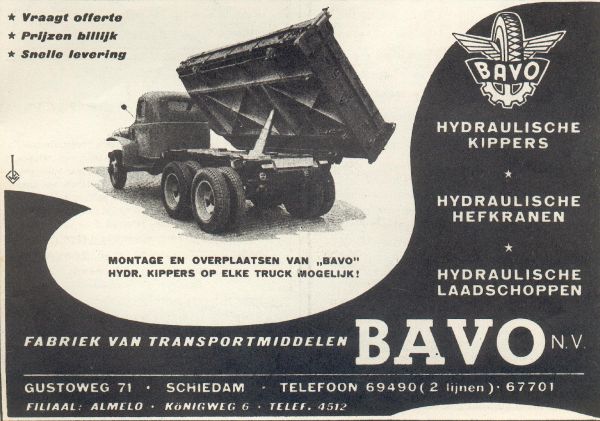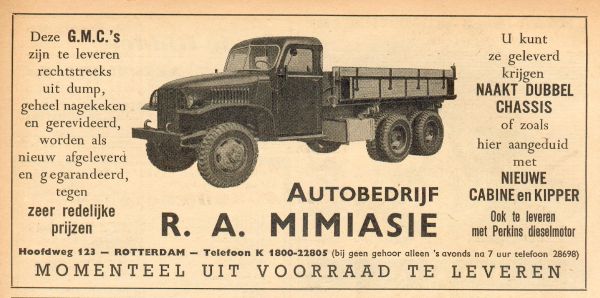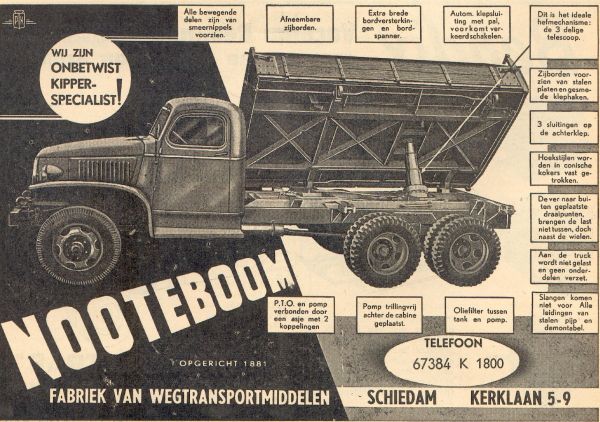 The left upper adverisement confirms once more that strips were often welded to the fenders of GMC's
(against spashing mud?) before civil use. The other advertisements promise you that buying a GMC will
make an end to sleepless nights and will make fairy tales come true....(courtesy of Sjaak Oosterling)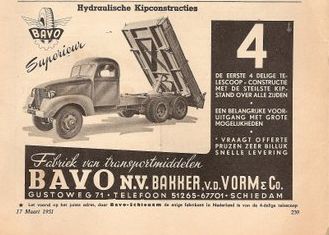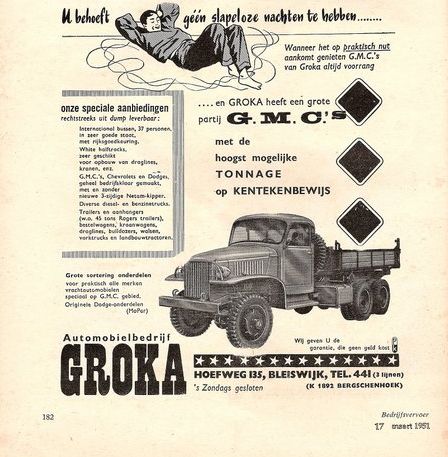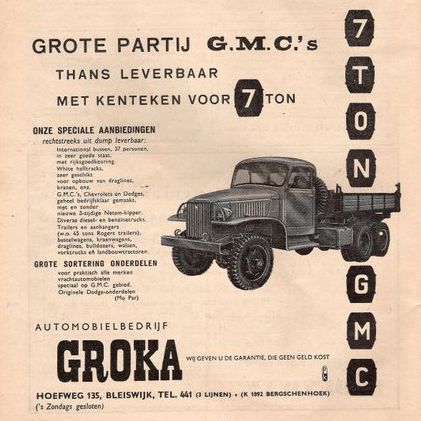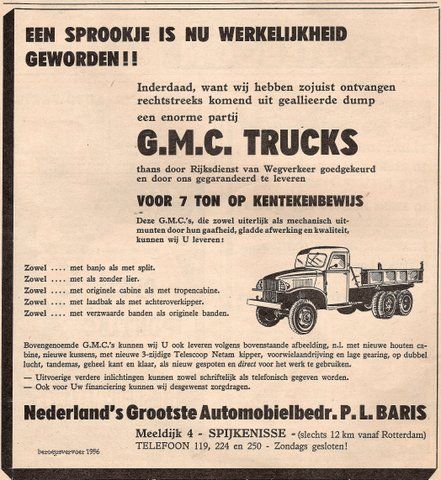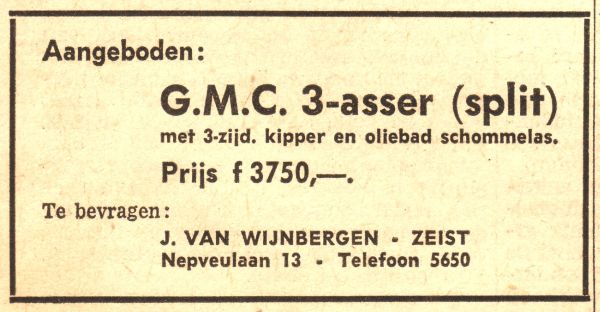 One cubic meter of moist sand has a weight of roundabout 1500 kgs. The payload of post-war GMCs was hence often
upgraded with an auxiliary frame and so-called Chevrolet axles (consult advertisement, courtesy of Sjaak Oosterling).
People tell me that these axles were derived from ex-army 6x6 Chevrolet 'CMP' C60X (right photograph)