The following picture is just an illustration of the role CCKW's played in the restoration of the post-war Dutch economy.
As typical as it can be: cheese transportation ! (courtesy of www.zuiderzeemuseum.nl).

Another example from these years is shown by the following picture: with a CCKW chassis serving as a base,
the original cab and front have been reshaped to fit in a Deutz Diesel engine.

Edah groceries distributed their cheeses with a GMC too (courtesy of Armand Bastin, Jan Kiens and Harry Schols)

The following pictures show how GMC's took their part in the annual sugar beets transport. As an exeption to my
rule I have included the 'cab over engine' GMC AFKWX (courtesy of Gerard Al, transporter from Beverwijk).

I'm sorry, but yet another 'cab over engine' GMC AFKWX (driver Gijs 'on the road' Klanderman in 1951). Simply
too great to be ignored (courtesy of son and former trucker Bert Klanderman from Oudenhoorn).

Three different cable layers of the Pol firm (Leeuwarden) (kindly lend to me from the extensive picture collection of
Peter de Groot), the BV-81-28, the BV-28-71 and the BD-54-BX, respectively.

Henk Bossinade lent met the next five pics of Pol-GMC's: the BD-54-BX, the BE-05-07 (equipped with DAF diesel),
the BE-12-92 (also with DAF diesel) and, once with the old-time blue licence plate and once with the modern yellow licence plate, the BV-81-28.
The last two trucks differ considerably from each other, so apparently documents and corresponding trucks were creatively swopped.......
This policy becomes even more evident by comparing these two BV-81-28's with the BV-81-28 on the very first picture from Peter de Groot archives which cab carried a machine gun hole in its roof! Whatever, Pol apparently used seven different GMC's, some converted to diesel. Thanks to Henk Bossinade his
administration we know that Pol has been using these trucks until, at least, 1999.

An illustration on their 2011 New Year postcard indicated that Pol once owned at least one other GMC with license plate NB-17-45.
Another batch of pics from Peter de Groot's personal archive: two pictures of milk transporters and, finally, a truck
and trailer of the De Winter firm.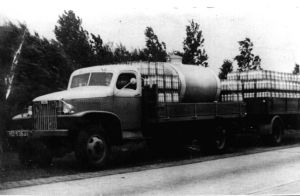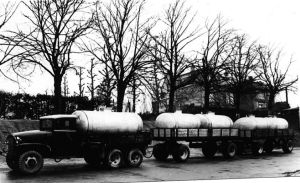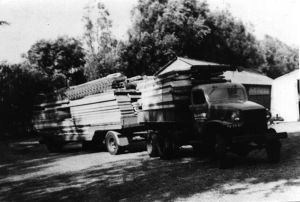 The Beijersbergen firm from Wassenaar, The Netherlands, was a heavy user of GMC's with a peak number
of 9 trucks at a time (courtesy of Peter Beijersbergen Sr (leaning on front tyre, second picture)).


GMC's were also used for livestock transport as illustrated by the two following pictures (courtesy of Toon van Dijk &
Martin Vente, Woerden)



Another example of a GMC dedicated to livestock transport, be it at the end of its carreer around 1956
(courtesy of Albert Linders)

A remarkably similar truck, built by Martens body shop, was owned by the Wijtmans firm from Hernen, The Netherlands (courtesy of Ben van Nuland)

GMC of unknown owner: check the Chevrolet 1.5 ton motor side panels (courtesy of Gerrit Langen)

Right after WWII it was extremely difficult for recovering Dutch transporters to find the right equipment again. Army surpluses were the answer to this deficiency. Many GMC's were used in their original form, but from others the third axle was removed, frames were elongated and diesel engines put in. The original open cabs were often replaced by so-called Dutch cabs. The next seven pictures show some examples (first six provided by Peter de Groot from his personal archives, the last one from Bert Klanderman).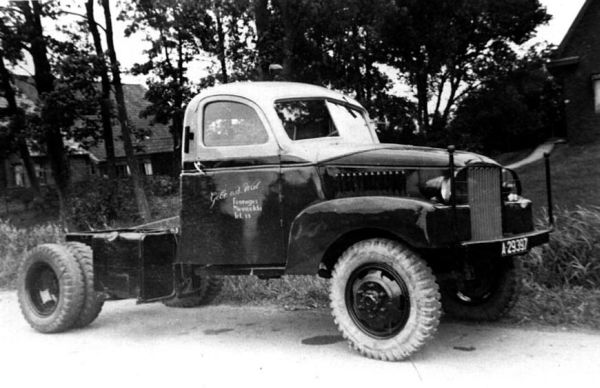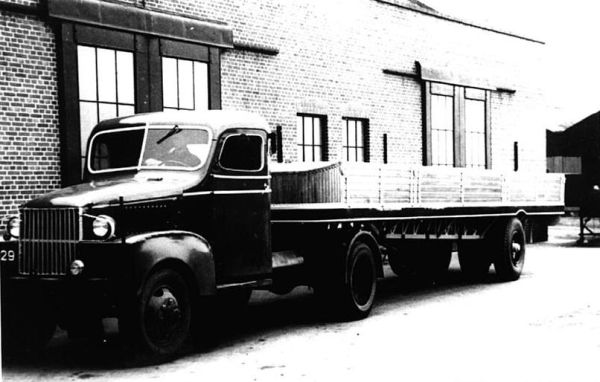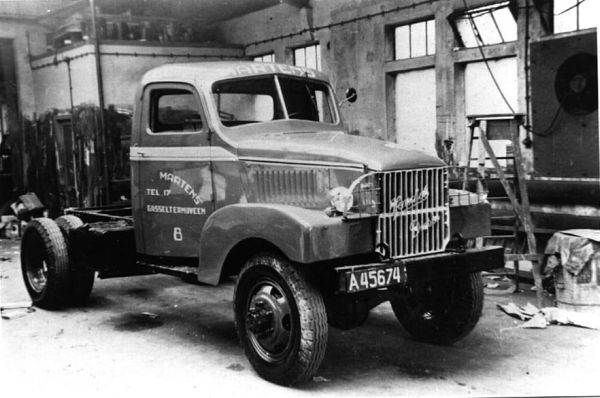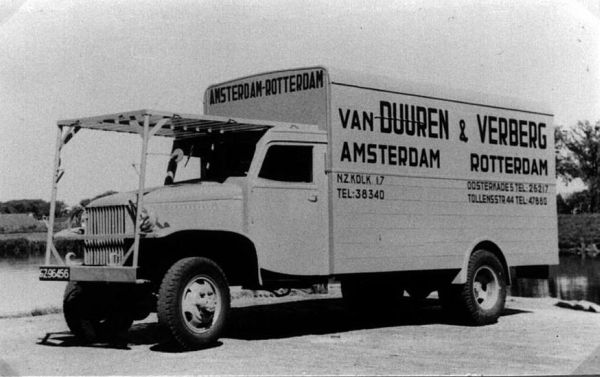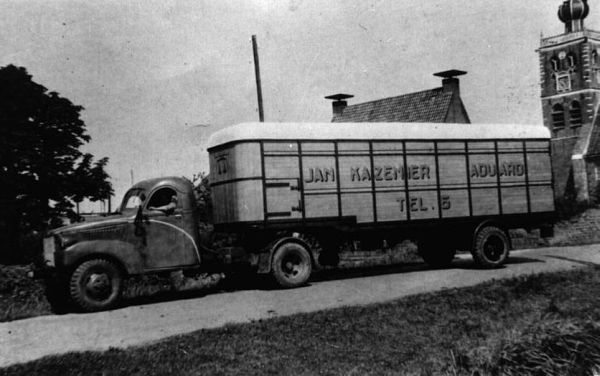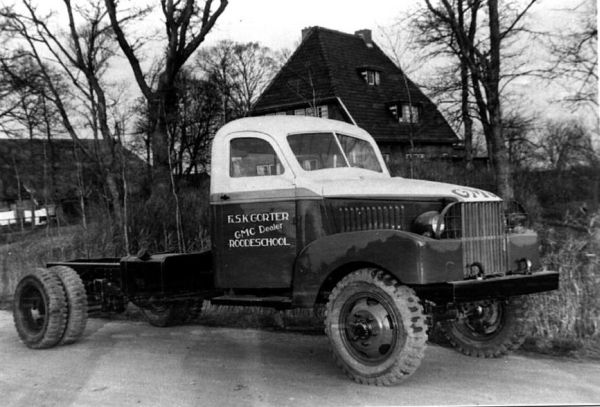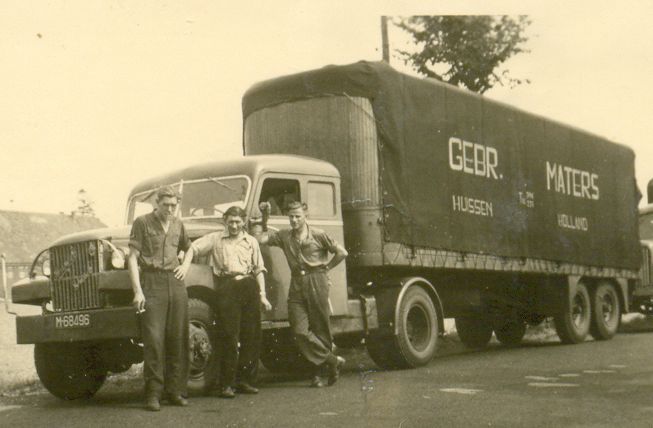 In addition to the above another example of a converted GMC tractor with livestock semi-trailer (courtesy of Bart Jonker)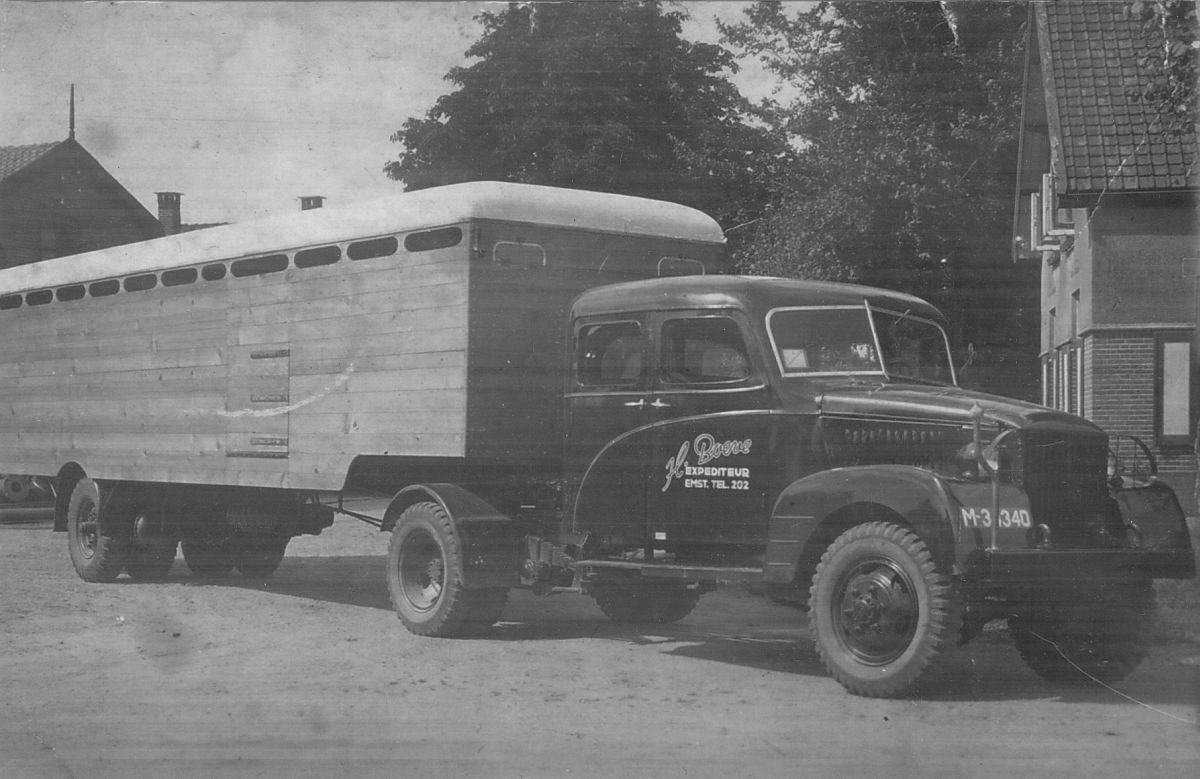 Vegetable crates on semi pulled by GMC tractor of Van Veldhoven firm from Loosduinen (coutesy of Armand Bastin, Jan Kiens and Harry Schols)

Straw hauling by J. Kor from Blijham (courtesy of Marcel van der Sluis)

Guus Priem sent me two great examples of shortened GMC's and an illustration of peculiar 'home mover'!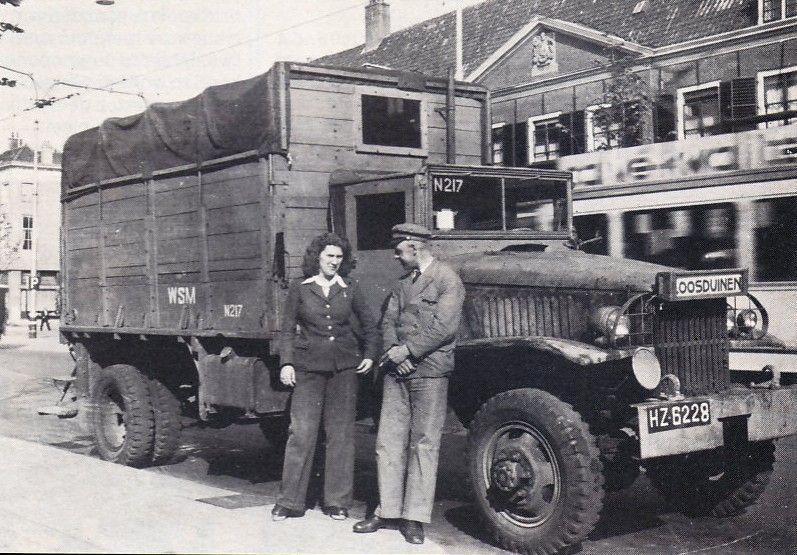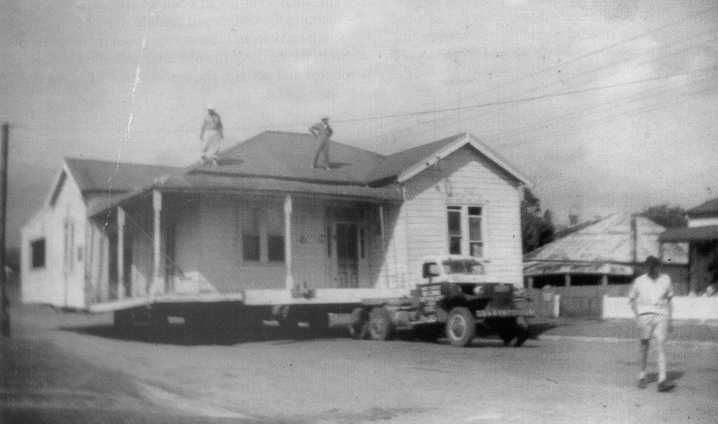 The Groothuijse firm from Beek-Ubbergen initially used army surplus trucks among which GMC's. They also removed the rear axle of one of their CCKW's and turned into a tractor for a semi trailer (courtesy of Theo Groothuijse, http://groothuijse.net/gt/index.php?inhoudsnaam=home)

The JaWiCo firm from Pijnacker started its enterprise in 1945 with GMC's, as shown on the next
four pictures (courtesy of John van den Bosch; http://home.hetnet.nl/~trucker/story.htm )

GMC of the Dutch army photo en film service visiting Wageningen 1963

Pullens firm from Waalwijk (courtesy of Marcel van der Sluis)

Pullens firm from Waalwijk, The Netherlands, already had a skip truck (check out cable over roof)
before they became common (courtesy of Walter Pullens, sitting on right hand front fender)

Wassing firm from Tilburg, having its tractor blessed by a local priest: it worked!
(courtesy of Marcel van der Sluis)

A GMC tractor (shortened CCKW or true CCK?) at the Den Bosch carnival, 1950 (source: Fotopersbureau Het Zui den, brought to my attention by Wouter Duijndam)

Another GMC tractor at Maastricht carnival , 1949 (courtesy of Hub Rekko)

Although some firms decided to shorten GMC's, other firms felt the opposite and had their trucks extended. The Mill firm from Gorinchem, The Netherlands, managed to elongate the truck by 200 cm whilst extending the wheel base by 89 cm. The transfer case was transposed by 89 cm too and the larger distance between that case and the gear box was bridged by the former transfer shift to the front axle. The original 6x6 thus became a 6x4 but, combined with a compact Dutch cabin constructed by Van Eck from Lexmond, the truck bed was as much as 215 cm longer (courtesy of Peter Albers)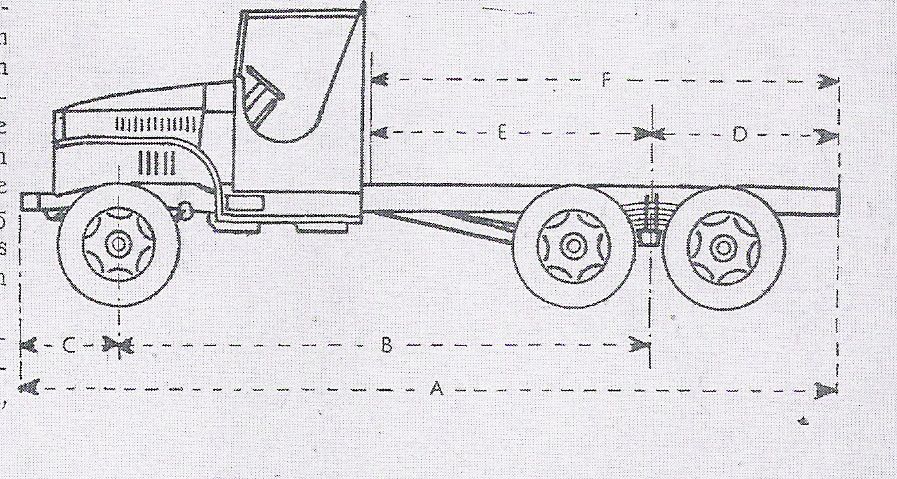 The Belgian firm Stevens carried out extension also (courtesy of Bart Jonker)


Inter-Limburg used extended GMC's as well (courtesy of Armand Bastin, Jan Kiens and Harry Schols)

De Tijdgeest haulage in Utrecht used several GMC as shown on these 1959 photographs (courtesy of Cees Reimus)

This GMC played a role in 1976 in the construction of the Amsterdam suburb Bijlmer (courtesy of Eduard Hattuma)

The municipal public transport company of Amsterdam (GVB) purchased 10 CCKWs in the spring of 1946. In 1947-48 five of them
(truck numbers 56 to 60) were converted by Geesink Weesp into two-axle trucks equipped with a liftable platform. These five trucks
served the GVB during twenty years after which they were sent to a scrap yard (courtesy of Hans Stoovelaar)
Platform Truck Nr 59 of GVB Amsterdam (photographer: Ben van M eerendonk)



Her retired sister (Truck Nr 60)

Two other GMC's (later on three of them) of the GVB (public transport company of Amsterdam) were assigned the role of track-welding unit.
Below a picture of Truck Nr 61. (source: http://www.flickr.com/photos/henkg/7794519824/, courtesy of the photographer Henk Graalman)

De Boer firm (left picture: working for Blauwband Express charters; right: transporting for their own tent rent firm: in the back
their first brand new hangar tents from US surpluses) used GMC's too (courtesy of K. de Boer)

Louis Ploemen from Meersen (courtesy of Hub Rekko (www.transportnostalgiezuid-limburg.nl ))

GMCs of Brand Breweries (coutesy of Hub Rekko (www.transportnostalgiezuid-limburg.nl ))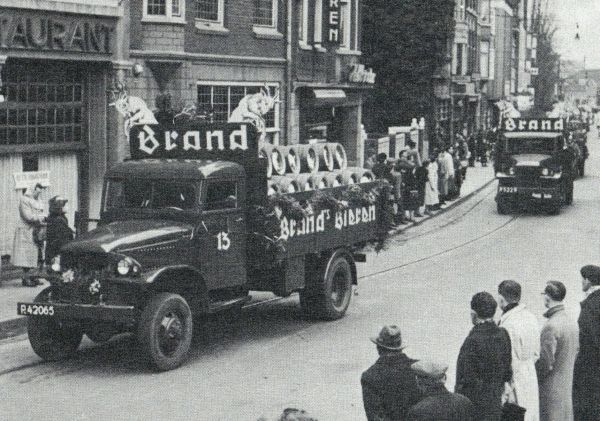 GMC tractor and semi trailer for tree trunk transport (courtesy of Armand Bastin, Jan Kiens and Harry Schols)

GMC tractor and semi trailer used by Simons Movers (courtesy of Armand Bastin, Jan Kiens and Harry Schols)

GMC victim of slippery road? (courtesy of Leo Mes)

GMC-mounted skip equipment (courtesy of Gerard Veldhuijzen, Van der Stoel Milieu, Vijfhuizen)

GMC-truck belonging to Van der Lingen, De Lier (courtesy of Leen van der Lingen)